If you are an educator or administrator, please weigh in with your comments! Let's take this wonderful ball that Susan pushed down the hill and keep it rolling!
BACKSTORY: After seeing this poster peppering my facebook feed, I pinned it, but had no idea how to give the proper attribution to the creator. ==>
After an hour or so of googling

,

I found the original Huffington Post article and the link within for Susan Messina's facebook page. I am not sure how they found it, but it was a brilliant gem. I wrote my post here, and sent a message to Susan with the link. She and I began an interchange that morphed from an idea for a comment posted, to doing a Q & A to a full blown article that was eventually published. The story will be picked up by a larger blogging platform on the national stage. Stay tuned.
The ideas discussed were how to do science fair projects that give each child an even playing field. One of her educator friends suggested that kids should do projects at home with just the supplies of paper and a pencil.
I have thought a great deal about that:
How is a science fair project done at home that is required
by our local public elementary school
to be TYPED with computer made graphs NOT a measure of the parents' abilities? Our school system is one of the best in the country serving a highly educated population. But the child who has a college educated parent with mad Excel skills will have a project that shines compared to a child whose parents may have to work very long hours, more than one job to make ends meet or be a single parent working and is just surviving. Are science fair projects DONE AT HOME truly a testament to the child's learning or the parents? Let's discuss this very important educational epoch for our kids! How do we keep the educational value, preserve family time and respect the fact that kids don't come from similar educational backgrounds while teaching the scientific method?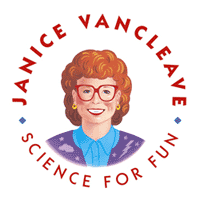 I contacted Janice Van Cleave who has written many books on this topic and whose materials I used in my homeschool to see if she would like to weigh in and follow up on her comments to Susan. I am so honored that she left her comments which I have included below

(edited down from the original which included her insights into her particular state, Texas and their educational system).
Susan, I must admit that I join your campaign to stop the lunacy of what is being called science fair projects. The attention of the entire world focused on your poster expressing how the majority of kids, parents and yes, even teachers feel---Everyone HATES Science Fair Projects.

So, Let's Fix it.

1. Any one assigning a mandatory science fair project must go home with students and help them prepare it.

2. I agree with Susan about elementary projects. Science Projects at the elementary level should be done at school.




Know that I am very passionate about science and loved what could be in the past called "Science Fair Projects." My students from middle and high schools did projects some that were entered in district, regional and one entered the International Science Fair. It was fun for the kids, and a chance for kids of all abilities to be proud of their work.

NOT ANY MORE---- Susan's poster could be on any billboard--maybe someone will put it there to let our run-a-muck education system know that enough is enough.

Just like the requirements of science fair projects, educational demands for testing and collecting data on our children is strangling any spark of excitement left in our teachers.

What lunatic demands that kindergarten kids give a hypothesis? But even more absurd is for any teacher to tell kids to think of a topic and then write down a question about that topic they want to solve. It cannot be just any question, it has to have one independent variable and one dependent variable. I forget, to solve this problem the experiment must have measurable results--in metric measurements. YIKES!

Most elementary teachers are honest enough to admit they just want kids to take the textbook length instruction booklet home--bring back a poster board with something glued on it and don't asked them any questions.

I am retired from writing and publishing books. My time is now spent tutoring local kids as well as kids on line for free.

I will stop now and design a few posters of my own.

Fluorescent colored poster board is what I need.




But for now: Here are some ideas for making changes to science fair projects:

scienceprojectideasforkids.com

Let's all join together and fix the wrongs in education.

Thanks Susan.
Her passion, the emotions in Susan's poster, the viral response to it &
my personal experiences
that spurred this series is hitting on something, people! Please comment with your ideas and experiences.